Meet and network with fellow entrepreneurs with Coffee Meets Bagel.
By Dawoon Kang (Co-Founder, Coffee Meets Bagel)
It's been 7 weeks since Coffee Meets Bagel launched in San Francisco. The tech /startup community here has been overwhelmingly supportive, trying our product, giving us feedback, and sharing about us with their friends. So I was super excited to organize the first ever Singles Holiday Happy Hour for the Startup Community in San Francisco!
Coffee Meets Bagel is all about facilitating meaningful connections so we wanted to make sure that the event is intimate (maximum 50 people) and also gender-balanced. And alas, when we promoted the event among the startup community, our exact fear materialized: Too many boys and not enough gals! (To see why we feared this, see my previous post at Women 2.0 on San Francisco's gender imbalance) The single girl in me screamed with joy ("I'm in the right city!) so I definitely wanted to share it with the fellow startup ladies!
Of course, I immediately turned to Women 2.0 and here is my call-to-action to all the startup ladies.
Ladies, we want you! RSVP here to meet and network with fellow entrepreneurs – it will be fun and intimate and we'll make sure you get to mingle with new people! (I hate those parties where I am just talking to my own friends and staring at others)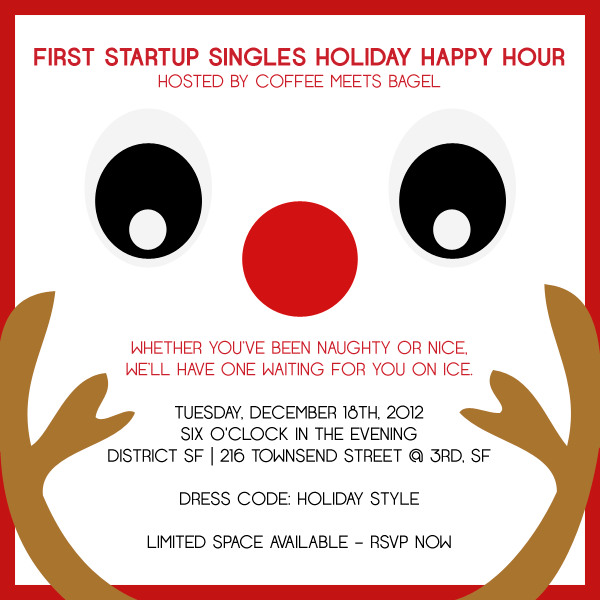 Women 2.0 readers: How has your holiday season been going? Let us know in the comments.
About the guest blogger: Dawoon Kang is the Co-Founder of Coffee Meets Bagel. She is happy to be finally working on a matter close to her heart, with and for people she loves – her sisters! Prior to Coffee Meets Bagel, she lived and worked in Korea, Japan, New York, India and Hong Kong, in a variety of roles that spanned from strategy and business development, marketing, research to investing/finance. Dawoon holds an MBA from Stanford Business School. Follow her on Twitter at @dawoonis.