By Virgilia K. Singh (Co-Founder, Exhale Health)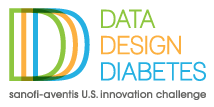 12.6 million. No this number doesn't depict any amount of funding.
12.6 million represents the number of women in the United States who are afflicted by diabetes. That means almost 11% of all women over the age of 20 have diabetes, many times unknowingly.
The Challenge
Data, Design, Diabetes is a challenge that combines a human centered approach anchored on key design principles to create new service solutions for people living with diabetes. Individuals are encouraged to apply techniques they have learned either within the health care sector OR outside the health care sector (think automotive, tech, media, etc.) to solving one problem associated with diabetes.
The challenge begins on July 1, 2011 and applications are open until July 31, 2011. Five final teams will participate in a demo day where they will present their advanced ideas. Then using an open panel combined with our judges, two finalists will be selected who will receive an additional $10,000 to develop a one month prototype of their solution to be tested in a real life diabetes community.
The findings and learnings from these prototypes will inform the selection of a final winner who will get an award of $100,000 along with space at the Rock Health incubator in San Francisco to turn their prototype in to a full real solution for people living with diabetes.
Why should you care?
There is so much hype surrounding "startups" and who qualify as "entrepreneurs," that the substance of new ideas being born are getting weaker by the day. As opposed to just creating another daily-deal site or building another location-based service, why not harness ONE real problem and SOLVE it.
In this case, the world of diabetes, there are so many elements that can be addressed — from dieting through genealogical precedence. By having a hybrid for-profit social enterprise model, you will not only be monetarily profitable but you will be actually solving a problem that afflicts a wide population.
According to the Center for Disease Control, diabetes is a chronic disease in which blood glucose levels are above normal. Most of the food we eat is turned into glucose, or sugar, for our bodies to use for energy. When you have diabetes, your body either doesn't make enough insulin or can't use its own insulin as well as it should. This causes sugar to build up in your blood. Diabetes can cause serious health complications including heart disease, blindness and kidney failure.
By the year 2050, 1 in 3 Americans will have diabetes. Not only does this create an unsustainable strain on our health care system but when people with diabetes don't get appropriate care, it greatly diminishes their quality of life and clinical outcomes. In fact, especially in newly diagnosed diabetes cases, patients are often told all the things they can't do which causes fear, confusion, and anxiety. We also know that when people with diabetes get appropriate cafe with the right level of support and services, they can lead very productive, successful lives with diabetes.
To find out more information, click here or tweet the team at @DDDiabetes.
About the guest blogger: Virgilia K. Singh is a seasoned business professional with 5 years of startup, corporate and government experience. By day, she works at Invoke Media. By night, she works on a startup in the alternative healthcare space at Founder Labs. Previously, she co-founded GenJuice and now serves on its Advisory Board. Virgilia holds a B.A. Honors from ASU and a MS from Thunderbird School of Global Management. Follow her on Twitter @VirgiliaSingh.