By Amy Dusto (Writer, Discovery News)
Baltimore — A city full of talent and ideas, the raw material for beginning businesses. Yet the actual amount of entrepreneurship happening doesn't always seem to match. Local entrepreneur and programmer Mike Subelsky noticed this and decided to give well-intentioned visionaries a kick start. He created a proposal for "Startup City," a twelve week summer program offering free workspace in Baltimore, $15,000 of seed money, mentoring, and workshops for ten lucky entrepreneurs, all to help them blossom.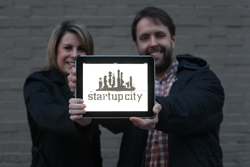 "The actual problem we're solving is to tell the story for these ten companies in a visible way, [the story] about people struggling and succeeding," Subelsky says, "to show it's doable." The city should subsequently benefit from the action of more than just whirling brains, but solid ideas going into motion with economic development attached. As Subelsky drafted in the Startup City proposal, "All we need are a few success stories to create a chain-reaction of entrepreneurship." Then he sat on it for about a year, until one day his friend and tech-scene colleague Monica Beeman, founder of Vines to Vino and regional director of small business lender FundingUniverse Maryland, asked him, "Why isn't anything happening with this? Let's do this."
Apply to Baltimore City by Wednesday, May 4 (MIDNIGHT). Application available here.
Just a few months later they're aiming to launch Startup City sometime during the last half of March. The program itself will run from July 1 to August 30, during which the founders of each chosen startup will be required to live in Baltimore — and hopefully they'll stay longer.
Such business incubators already exist around the country, offering a holistic method of assistance. For example Techstars, the program after which Beeman says Startup City is directly modeled, mentors entrepreneurs for three months in a different city each season: Boston, New York, Seattle, and Boulder. Notice the particular mix in that list — no longer are the biggest metropolises or tech meccas like Silicon Valley the only petri dishes of startup culture. Smaller places have proven inviting in their own right, with a proper mix of talent, technology, and open-mindedness. Sound like Charm City yet?
"People here already know it's a good place to start a business," says Beeman, "We want to help other people realize that."
Applicants to Startup City, who will be selected based on a YouTube video they submit to the program's website, can be from anywhere in the world — though Baltimoreans are equally encouraged to apply. The final ten, chosen by consensus of all the mentors and investors involved in the program (after Beeman and Subelsky narrow down the initial pool) can be anyone from a single person with an idea to a formed team or company. Startup City is looking mainly for those who will be able to execute a successful project in twelve short weeks.
Investors in Startup City, who are still being recruited, are private individuals coming from Angel groups and elsewhere. Though the seed money is nice, says Beeman, the most crucial element and the draw for most applicants will be the mentoring and educational resources offered by the program. She is working with the investors to bring in successful people and expert entrepreneurs to share their knowledge in areas like finance or marketing over weekly seminars and workshops. Additionally, one of Startup City's goals is to introduce the participants to Baltimore, showcasing it as a world-class city and a great place for creative types to live.
At a graduation-like final event, the entrepreneurs will have to demonstrate the product they've created for the investors and everyone involved in the program. A second demo day in New York City might also be planned to help them gain even more exposure, though that will depend on the ultimate budget.
"We want this to be Silicon Valley on the East Coast," says Beeman, though in the Startup City proposal Subelsky wrote that rather than trying to recreate California's tech Eden, Charm City should "capitalize on its distinct urban character." The sentiment persists, however, that Baltimore has potential to become a startup haven, and may even be known for it one day.
So far the Maryland Technology Development Corporation (TEDCO), the Economic Alliance of Greater Baltimore, and the Emerging Technology Center all support Startup City. Beeman expects the Department of Business and Economic Development will soon be joining in too. Subelsky paints Baltimore, with its numerous universities, low cost of living, proximity to venture capital in the D.C. region, and "strong counterculture" as an obvious place for entrepreneurs to come – as soon as its trendy.
"I think what makes Startup City so cool is that we want to bring people from all over the country and possibly the world to Baltimore," says Beeman, "It's a perfect storm for a startup."
Extended deadline for Startup City is Wednesday, May 4th at midnight. Apply here.
This post was originally published on www.bmore.com. Photo by Photos by Arianne Teeple.
About the guest blogger: Amy Dusto is a writer and technology blogger for Discovery News. She is currently working on her Master's in Science Writing at Johns Hopkins University. Follow her on Twitter at @pandagica and Bmore at @bmoremedia.